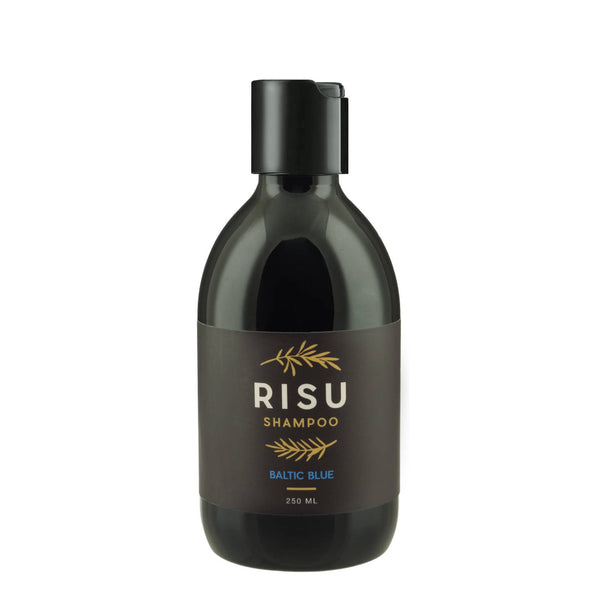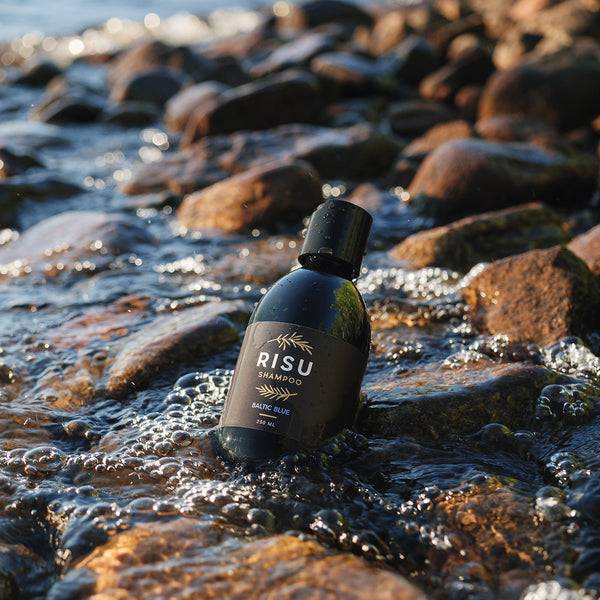 Risu Baltic Blue Shampoo
Natural, gentle and refreshening Baltic Blue shampoo is the first blend to hit the Risu Shampoo category. After a long research and development process we are proud to release our first SLS-free shampoo.
Sodium Lauryl Sulfate free shampoo is gentle for your scalp. It's suitable for all hair types and contains no parabens. We chose Baltic Blue to be our first scent in our new product since tea tree, peppermint and cedarwood all work wonders for the hair as well. Tea tree oil moisturizes the hair and prevents itchy and dry scalp. It also helps to fight dandruff. Tea tree oil can also control excess oil produced in the scalp, which may reduce hair growth. Studies have shown that peppermint oil has a positive effect on hair thickness. Cedarwood oil stimulates circulation to the scalp and that contributes to hair growth. It can also reduce skin irritation. Baobab seed oil makes your hair smooth and silky. Be careful if you have a nut allergy.
This shampoo is designed for your beard as well. Its gentle oil-infused consistency nourishes and cleanses the beard without stripping the hair of its moisture. 
Natural shampoo works and feels different from normal shampoos. It has a lower foam than a conventional shampoo, but it will gently lather throughout the hair. Wash your hair with warm water. If you are using very strong hair styling products it may be a good idea to wash your hair twice in a row. Risu shampoo has pH of 5-6. Let this eco friendly shampoo be the best thing your hair has felt!
Now with a handy flip-disc cap!
Read our blog article for more info about the ingredients. Bottle size 250 ml.
Ingredients: Aqua, Caprylyl/caprylyl Glucoside, Cocamidopropopyl Betaine, Glycerin, Sodium Cocoamphoacetate, Lauryl Glucoside, Citric acid, Adansonia digitata (Baobab) Seed Oil, Menthone Glycerin Acetal, Aloe barbadensis (Aloe Vera) Leaf Powder, Hydrolysed Wheat Protein, Sodium Cococyl Glutamate, Sodium Lauryl Glucose Carboxylate, Xanthan gum, Sodium benzoate & Potassium sorbate, Phenoxyethanol, Essential oils (Melaleuca alternifolia - Tea tree, Cedrus atlantica – Cedarwood, Mentha piperita – Peppermint), Limonene, Mica, CI 77891, CI 77491

---